Mailbox is being discontinued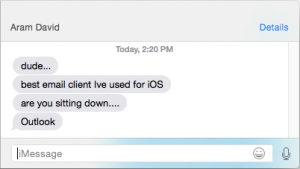 , so many people are scrambling to find a replacement email app for their iPhones and iPads. My friend Aram David tried Microsoft Outlook, after reading a Verge post about it. The result was utter shock as evidenced in the screenshot of his texts to me.
Here's what he likes about Outlook:
built in calendar
filter for real vs promotional emails
archive
search is INSTANT
I transitioned from Mailbox a couple months ago because it was so buggy, and now use Google Inbox. I love it. Search is super fast, the interface is light and simple. I'd like to be able to mark emails as unread in Inbox, but even without that feature I'm quite happy with Inbox. Hopefully they'll add that in the future. I only use Gmail/Google Apps email accounts, but if I used email accounts from multiple providers (such as a Gmail account and an iCloud account), I'd definitely try Outlook.
If you're not pleased with your iPhone or iPad email client, check out Outlook or Inbox.